Administrator
Join Date: Jan 2012
Location: Upland, CA
Posts: 2,997
Thanks: 0
Thanked 15 Times in 11 Posts
High Intensity Discharge (HID) VS. Halogen Lighting (OEM)
---
THROWDOWN: HIGH INTENSITY DISCHARGE VS. HALOGEN LIGHTING
If your conventional headlights just aren't cutting it anymore, read on. You'll be interested in knowing some of the benefits of retrofitting a modern HID low beam or bi-xenon setup into your headlights.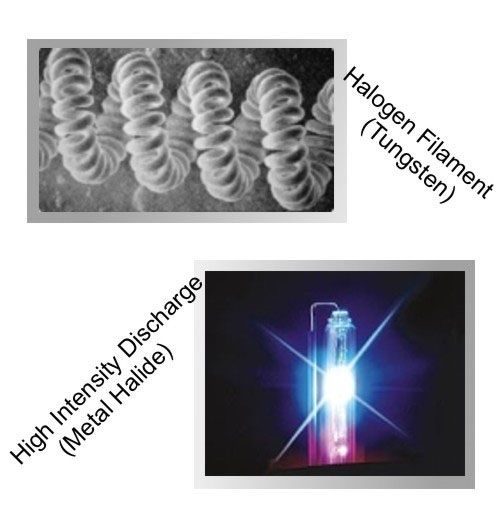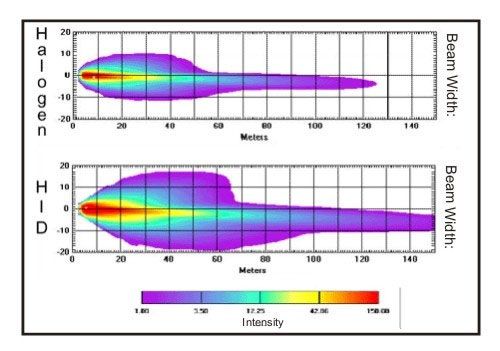 HALOGEN
First a background of automotive lighting technology. Before there was HID technology, there was halogen lighting. Halogen is what has been used in automotive lighting for the last 50 years or so and has peaked in its technological advancement. Halogen lighting involves a conventional direct-current direct-circuit setup. The bulb itself houses a filament commonly made of tungsten metal, which is basically a very delicate loose coil of exotic wire. The filament is held up by two chemically-treated, copper-coated steel (or molybdenum) lead wires. On some bulbs, like the 9006/HB4, the glass bulb that encases them is capped at the end with a nickel-plated brass film. The bulb itself is also filled with a noble gas of some sort, which we'll get into later. When electrical current is supplied to the positive lead wire in the halogen bulb, it crosses a path of tungsten wire, which has very high electrical resistance. It is this high resistance that produces heat and ultimately light as a byproduct. This is essentially the same principle of operation as fire: intense heat used to produce light. Halogen low beams will normally operate on 55 watts of power. Fog lights operate at around 35 watts to 55 watts, and high beams at 55 watts to 85 watts. It is a very simple technology fundamentally, but there are flaws in the halogen mostly relating to efficiency of power.
First of all, halogen bulbs produce more heat than they do actual light (incandescence), which translates to an inefficient usage of potential energy. Secondly, as the halogen bulb is used, tungsten atoms begin to evaporate from the filament due to the extreme heat. When the tungsten evaporates, it deposits itself on the relatively cool surface of the glass bulb (this is why dead light bulbs are often black), and the filament becomes thinner and more brittle. Sooner or later the filament will evaporate enough tungsten particles that it snaps in two pieces and breaks the electrical circuit. In simple terms you have a dead light bulb.
Now stepping back to the gas filling as mentioned earlier. Because tungsten evaporates away rather quickly, researchers learned to fill the bulbs with inert gases like argon, krypton, and yes even the infamous xenon. The sole purpose of these heavy gases is to create a level of pressure within the bulb that deters tungsten evaporation. Once a tungsten atom leaves the surface of the filament, it is immediately blocked by giant xenon particles that are crowding it and pushing it back towards the surface of the filament. Xenon is most commonly used because it is the heaviest of the inert gases and is also tied to HID lighting; therefore an opportunity for marketing deception arises. The reason why xenon-filled halogen bulbs don't work indefinitely is because tungsten is a smaller atom and still manages to escape the xenon, redepositing itself somewhere else on the filament, which still thins the filament where the atom originally evaporated from. Halogen bulbs can also be broken by a forceful jolt strong enough to fracture the filament, or by overpowering the bulbs to a degree that flash-boils the tungsten.
HIGH INTENSITY DISCHARGE
HID technology also known as gas discharge or xenon is quite different from old school halogens. HID uses a capsule (bulb) with two adjacent electrodes positioned in close proximity to each other. These two leads to are connected to an electronic HID ballast. The ballast is an electronic module that has a circuit board lined with several small high current capacitors, transistors, and resistors. This ballast has two main purposes; One, to fire up the gas discharge process, and as a control unit to regulate a steady power flow after ignition. The HID capsule is filled with a rich mixture of noble gases as well as alkali earth metal salts. In this setup, the noble gases and metal salts are actually used as part of the lighting processes instead of as a buffer (as with halogens). For quick ignition, the ballast takes in a small amount of input power of 35 watts at 12 volts and inducts a solid-state charge of 25,000 volts to the positive electrode in the bulb. This creates a very high-powered arc of electricity across the electrodes, which excites xenon gas into discharging photon particles (light). This process is known as the Gas Discharge Principle.
The light is relatively cool burning compared to halogen, consumes much less power, and produces much more light at a much higher color temperature. Halogen lighting in automobiles has become an archaic technology and is steadily being replaced by HID lighting systems in more and more automobiles. They are no longer limited in availability as high-end luxury amenities.
Let us recap the main points why HID headlights are better than halogen below:
HID's can be 3x more efficient: (HID = 35w, Halogen = 55-100w)
HID's can give you 4x the light output: (HID = 2400-3200lu, Halogen = 800-1700lu)
HID's can be 10x more intense: (HID = 202,500cd, Halogen = 21,000cd)
HID's can last 6x longer: (HID lifetime = 2500hrs, Halogen = 400hrs)
Sources cited:
Throwdown: HID vs Halogen lighting from The Retrofit Source Inc
---
For any questions please send me a PM and add link to thread if you want a public response. I will try to a answer within 24 hours.
2012 RALLY HATCH

To view links or images in signatures your post count must be 10 or greater. You currently have 0 posts.

I have 99 problems but a JDM isn't 1.
To view links or images in signatures your post count must be 10 or greater. You currently have 0 posts.

To view links or images in signatures your post count must be 10 or greater. You currently have 0 posts.

| | |
| --- | --- |
| The Following User Says Thank You to BryanGuyStatus For This Useful Post: | |
Member
Join Date: Dec 2013
Posts: 236
Thanks: 3
Thanked 19 Times in 17 Posts
Thanks for the refresh lesson.
What was NOT included in the tutorial is the components that needs to work together for best light output.
The bulb (which was mentioned here), the power usage (which was mentioned here), the color of light (not mentioned here), and the housing where the bulb sits in (which was NOT mentioned here).
Here's an example of a good beam pattern:
Notice the beautiful cut offs on the top with minimal glare. It's very difficult to archive this by simply dropping in a HID bulb in a housing that is designed for halogen lighting. By doing that, you might introduce glare to oncoming traffic or poor beam pattern. In other words, you are not going to get the best bang for your buck just by dropping in $100 HID bulbs into your car.
Member
Join Date: May 2013
Location: Lethbridge, Alberta Canada
Posts: 412
Thanks: 8
Thanked 71 Times in 58 Posts
that light is from an acura tl 05+ its a bi-xenon w/ zkw lens; dedicated low beam hid projectors are still better than most bi-xenons, though the TL is still massive to be retrofitted in the forte.. speaking of beam patterns , here in north america, step cut-off is better compared to the slope like pic above (w/c is common in europe and asia) slope tends to glare rearview mirrors of vehicles in your right side as they are a tad higher compared to step cut-off.. for components

ballasts- 35w recommended boosting shortens bulb life span
bulbs- 4350k optimal visibility, some 4800k/5000k are rated 3200 lumens
and hid's are recommended and supposed to be used with their own designed optics

d1s/d2s/d3s/d8s(25w)-- projectors
d2r/d4r- reflector based hid's

with todays time hid's are popular, people buy bluish lights to imitate the prism effect of vehicles with oem hid projectors (purple/bluish color fringing) and also brightness though its mainly a misconception, yes they are bright but you get flashed because of the glare, then you have to aim lower, then what?, you wont see further... right now there's no way you can teach or force people to learn unless they are willing and interested to learn about better lighting.. they will do what they want to do and will slowly learn when errors come along. an example is putting hid on fog lights that are reflector halogen based and running it without actual fog when running on dark roads, this will strain the eyes because of too much foreground light and makes you perceive that your distance vision at night is diminishing...
also people will learn along the way slowly if some halogen reflector based that have hids will be running in opposing traffic like their set-up and how it will actually light up their face instead on the road..
it takes time but it won't hurt to remind and encourage people.. never argue, its gets you nowhere if they ask questions, the better then you start to educate them..
---
To view links or images in signatures your post count must be 10 or greater. You currently have 0 posts.
Posting Rules

You may not post new threads

You may not post replies

You may not post attachments

You may not edit your posts

---

HTML code is Off

---