Discussion Starter
·
#1
·
Hey,
My name is Josh. I'm located in the Central Georgia area and grew up in Macon. I'm Still new to Kia and the Forte Koup as this is the first I've had of both. I purchased my Silver 2010 Koup SX Auto on Black Friday. Honestly it was somewhat of an impulse buy. I also own a 96 Ford probe that I was using as a DD but it is just to unreliable and was going to cost way too much to fix the way I wanted it. Decided that money is better spent on something new that I can rely on and has a warranty. My 2 day search for something I liked and was in the price range I wanted, and found myself at one of the last places I expected to be. Went to look at the car and drove it home the same night.
Only a few things about the car that bug me so far.
Georgia doesn't have front tags so why install the tag mount? Free dealer advertising of course. Now if I take it off I have 5 big holes in my lower grille/bumper.
Only 13 gallons? Even my Probe held more than that. It'll just take some getting use to.
When driving in normal auto mode it feels like it takes to long to shift. Only 1K on the odometer so far though, computer may still be learning or something.
What I want to do to the car:
Make payments on time each month (top of the list, most important and comes before anything else)
All Weather Floor Mats
Cargo Tray & Net
Fitted seat covers (Probably IGGEE)
Trailer Hitch for mounting bike rack
Windows tinted to match sun roof
Sharkfin Antenna (the good one)
Trunk Lip spoiler
Floor mats with the SX logo rather than all red
Now for the pics.
These first ones are form the dealer advertisement on their site.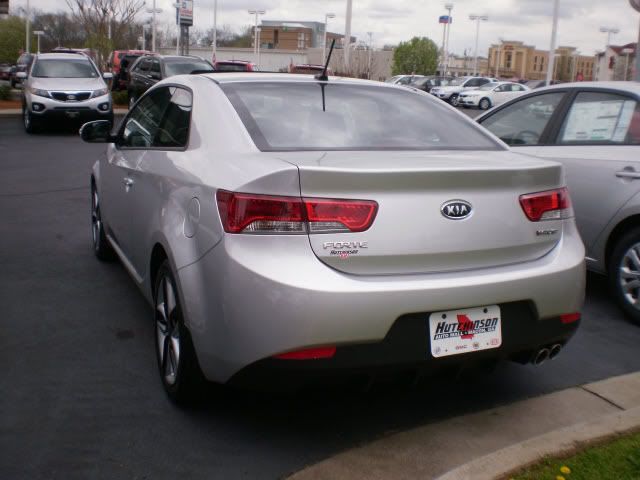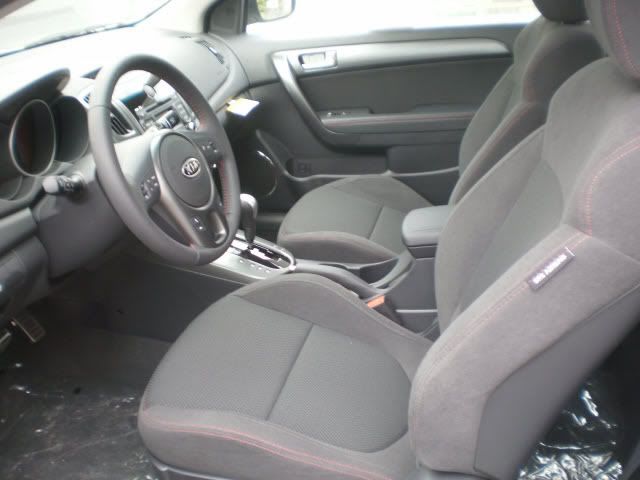 These are pretty much as it sits now.
To prove it's an SX
The dealer tried to pull a fast one on me. They tried to tell me that those were the stock wheels on that car. Hell they also thought that it was an EX until the dealer went inside to get the keys, I already knew that i was an SX due to the markings on the trunk lid. Apparently someone wanted the SX wheels that were on my car so they swapped them. Fortunately for them I decided I preferred these wheels as soon as I saw them. Can anyone ID them for me, they appear to be same as on a 2011 Koup that someone on the forums has. All I know is that they are 17" Kia factory wheels.