(No I'm not new, I lost access to my old account [Reject])
But I painted my wheels today.
Tada.
Oh I also painted the chrome grill, I'll grab some pics of that in a minute.
Grill: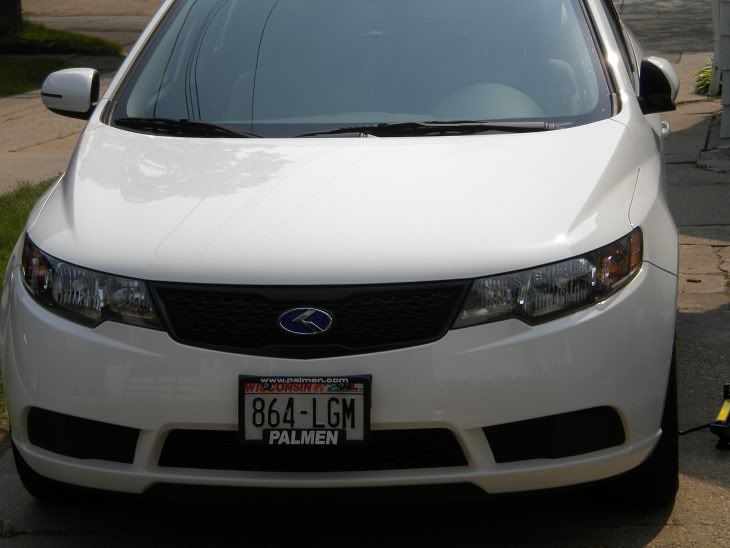 Things you will need (All of it is available at autozone and advance):
Mask
Latex Gloves
Duplicor Wheel Coating - Color (if you're doing your grill as well you will need 2 cans)
Duplicor Wheel Coating - Clear (Only one can of the clear coat worked for me)
Sandpaper 320 grit & 600 grit
Duplicolor touch up prep wipes or spray - (used to clean the wheels)
microfiber towel
tack cloth (optional but helps when wiping the rims down after sanding)
I used a video on youtube to give me a rundown of how to paint my rims.
You can view it here:
The painting of the rims will take all day, and then has to sit for 24 hours before use. (So make sure you have 2 days where you don't have to use your car)
(ALWAYS WEAR FACE PROTECTION WHEN PAINTING AND LATEX GLOVES WHEN HANDLING CHEMICALS SUCH AS THE PREP WIPES / SPRAY)
1) Loosen wheels, jack up the car and remove all 4 wheels. (If you don't have jackstands, like me you can use the spare and the jack to do two at a time, otherwise do all 4)
2) Clean the rims with soapy water and a pressurized hose and wipe dry with a clean cloth.
3) Then use the duplicolor prep wipes or spray to make sure the wheels are completely clean, wipe dry with your clean cloth.
3) Sand each rim with the 320 grit sandpaper, make sure to do a thorough job and get all the corners. (The idea is to ruff up the rim so the paint will adhere properly, you don't need to overwork the rim)
4) Use the tack cloth to remove the dust left by sanding. (I just sprayed the rims down after sanding because my tack cloth ended up as a playtoy for my cat and it ended up fine) The tack cloth might leave a sticky residue, I would rinse the rims after tack clothing just to be safe.
5) If you are leaving the tires on the wheels, use tape and newspaper to cover the wheels and protect them from overspray (Take your time on this and make sure you don't cover the rim at all with the tape, the bad spots on my wheels are because of how I taped off the wheel)
-If you want to have a colored lip, you can always tape off that section and paint it a different color
6) When painting the wheels make sure to be in a well ventilated room with your mask on! You want to be in an area with limited opportunities for foreign objects to land on the wheels while drying or spraying.
7) Before using the duplicor wheel coating (color) shake the can for a full minute, and after for every minute of spray, shake for 10 seconds.
7.5)
Just a note, for longevity, you should've used a Self-Etching Primer as your first few light layers (ie, after sanding but before painting).
8) Spray a light coat on the wheels (make sure to get every side of the rims and try to keep it as even as possible)
9) Wait 10 minutes
10) Spray your second coat of color, again another light coat.
11) Wait 10 minutes
12) Spray a third and final coat of color this time with a medium coat (make sure you have sprayed all sides of the spokes evenly)
13) Wait 10 minutes
14) Repeat the painting process but with the clear coat
15) Let the rims sit for 1 hour before touching (if doing the 2 at a time method)
-If doing the all at once method, let all rims sit for 24 hours before use (after one hour the wheels can be placed back on the vehicle, be careful not to scratch them
16) The paint will scratch more easily then the original, make sure to warn mechanic shops etc to be careful when handling them
The grill:
(Estimated time 1-2 hours painting, let sit for 24 hours for best result)
1) Take the grill off the car, and then remove the chrome piece from the black webbing (there are several small screws holding the chrome piece on)
1) I used the duplicolor wheel coating for my grill and it came out fine.
2) Sand the grill using the 320 grit sandpaper (this time put a bit more effort into it because you need to dull out the chrome for the paint to adhere properly)
3) 2 coats light, 1 coat medium color (10 min between each coat)
4) 2 coats light, 1 coat medium clear (10 min between each coat)
5) I let mine sit overnight before putting it back on the car to be safe (would probably be okay after 1 hour)
6) Use extreme caution when putting the grill on, I scratched mine when screwing it back in.
Final tip: Watch that video, read the instructions on the duplicolor can and you guys should be fine!