*note: This post covers the accelerator position sensor (APS) not the throttle position sensor (TPS).
Here's a brief tutorial on my method of adjusting the APS (accelerator position sensor) on a Kia Forte.
Step 1: Gather your tools
A. Multimeter (set to DC voltage- 20 scale)
B. A pin or needle (mine have alligator clips attached to them)
C. A small phillips screwdriver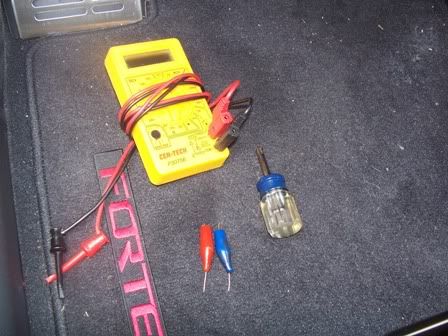 Step 2: With the engine off, locate and remove the connector from the top of the APS sensor (attached to the left side of the throttle pedal)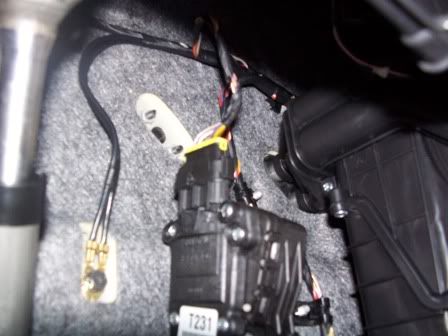 Step 3: Insert pin or needle into the third wire from the left (orange). When inserting, make sure that you stick the needle where the wire comes into the connector (the side with the yellow retainer)- not the side that plugs into the APS sensor. This is called back-probing.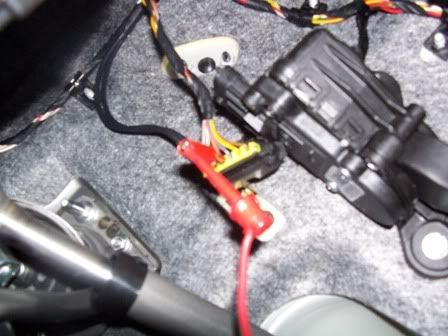 Step 4: Plug the connector back into the APS and connect the multimeter (positive to needle on APS plug and negative to a good ground).
Step 5: Start the engine. Your multimeter should read ~ 0.78 volts (that's what mine was). If your multimeter is reading 0 volts, check your connections- you may not have a good connection with the wire inside the connector.
Step 6: Loosen the 5 screws circled in red, but don't remove the sensor ( I borrowed this pic from the original tutorial).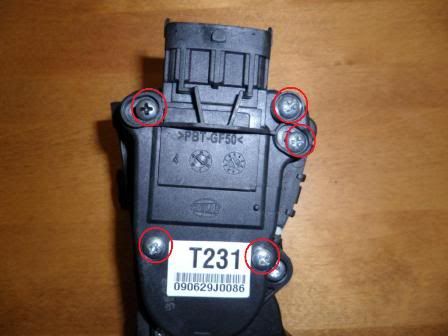 Step 7: While watching the multimeter, rotate the APS until you read close to, but no more than 1.0 volts. Mine started out at 0.98 volts, but decreased to 0.94 volts as I re-tightened the screws (I feel that 0.95 volts is ideal, but 0.94 volts is close enough for me). It may also take some wiggling/ more loosening of the screws to get the voltage to change.
Step 8: Re-tighten the 5 APS screws, holding the sensor in its new position as you tighten (voltage will drop some).
Step 9: Remove the needle from the connector.
Step 10: Put your tools away! It's time to enjoy your work!